stainless steel
SUBMERSIBLE PUMPS


6"/ 7"/ 8"/ 10"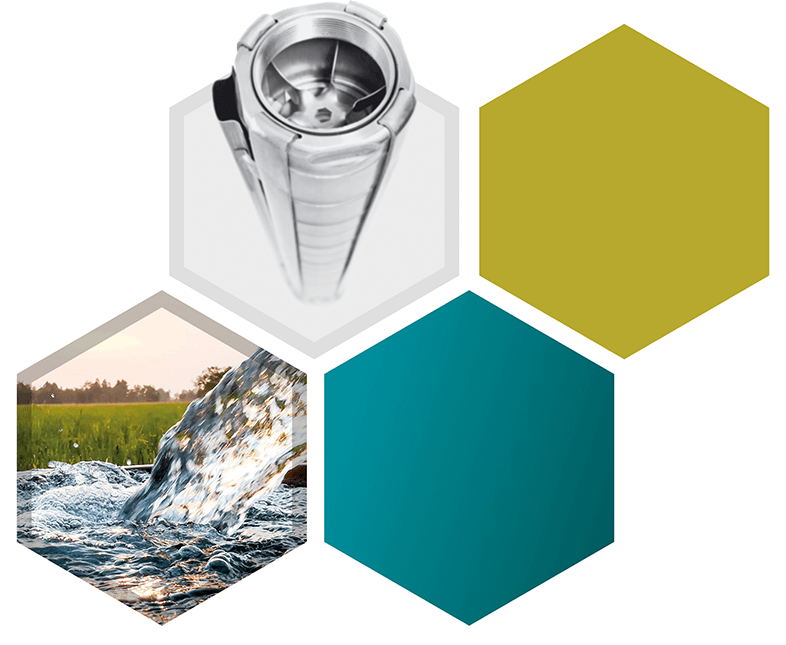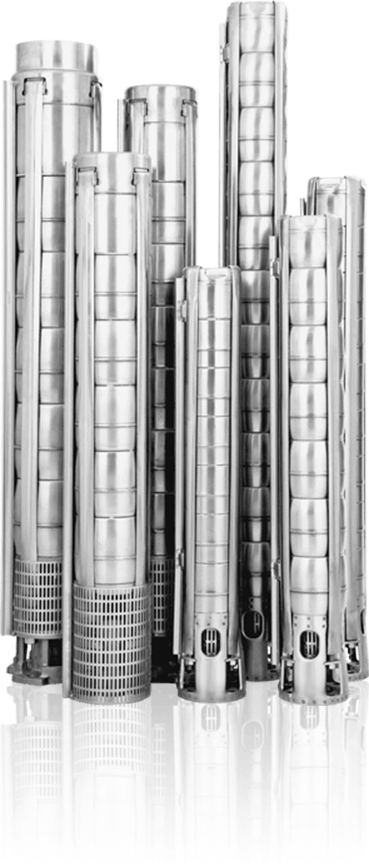 High efficiency
Very Long life
High durability and solid construction
Easy service operation
Suitable connection in NEMA standarts
Water lubricated rubber bearing
Built-in checkvalve to prevent back flow
Our Submersible Pumps developed with superior engineering. Tork high efficiency Stainless Steel Deep Well Submersible Pumps are designed to produce more work with less energy and higher efficiency. They provide a long life and a stable performance with certified high quality material and special production characteristics. Their reliable design reduces the lifetime cost (life cycle cost) and allows them to run economically.
PUMP PARTS & MATERIALS
6" Submersible Pumps Parts & Materials
| | | |
| --- | --- | --- |
| No | Part Name | Material |
| 1 | Suction Case | Stainless Steel (AISI 304L) |
| 2 | Strainer | Stainless Steel (AISI 304L) |
| 3 | Suction Case Wear Ring | Bronze / * AISI 304 + Rubber |
| 4 | Pump Shaft | Stainless Steel (AISI 431) |
| 5 | Collet | Stainless Steel (AISI 304) |
| 6 | Impeller Wear Ring | Stainless Steel (AISI 304L) |
| 7 | Impeller | Stainless Steel (AISI 304L) |
| 8 | Nut For Stop Ring | Stainless Steel (AISI 304) |
| 9 | Stop Ring | Bronze (ASTM B145-4A) |
| 10 | Diffuser | Stainless Steel (AISI 304L) |
| 11 | Diffuser Wear Ring | Rubber |
| 12 | Nut For Collet | Rubber |
| 13 | Rubber Bearing | Stainless Steel (AISI 304L) |
| 14 | Upper Bearing | Bronze (ASTM B145-4A) |
| 15 | Valve Cup | Stainless Steel (AISI 304L) |
| 16 | Discharge Case | Stainless Steel (AISI 304L) |
| 17 | Tie Rod | Stainless Steel (AISI 304L) |
| 18 | Cable Guard | Stainless Steel (AISI 304L) |
| 19 | Tie Rod Nut | Stainless Steel (AISI 304) |
| 20 | Tie Rod Stud | Stainless Steel (AISI 316) |
| 21 | Name Plate | Stainless Steel (AISI 304L) |
| 22 | Coupling | Stainless Steel (AISI 431) |
* Only used for models 6010 / 6017 / 6030
6" Submersible Pumps Parts & Materials
| | | |
| --- | --- | --- |
| No | Part Name | Material |
| 2 | Strainer | Stainless Steel (AISI 304L) |
| 3 | Suction Case Wear Ring | Rubber |
| 4 | Pump Shaft | Stainless Steel (AISI 431) |
| 5 | Collet | Stainless Steel (AISI 304) |
| 6 | Impeller Wear Ring | Stainless Steel (AISI 304L) |
| 7 | Impeller | Stainless Steel (AISI 304L) |
| 8 | Stop Ring | Bronze (ASTM B145-4A) |
| 9 | Diffuser | Stainless Steel (AISI 304L) |
| 10 | Diffuser Wear Ring | Rubber |
| 11 | Nut for Collet | Stainless Steel (AISI 304L) |
| 12 | Rubber Bearing | Rubber |
| 13 | Upper Bearing | Bronze (ASTM B145-4A) |
| 14 | Discharge Case | Stainless Steel (AISI 304L) |
| 14.1 | Discharge Case Body | Stainless Steel (AISI 304L) |
| 14.2 | Valve Cup Spring | Stainless Steel (AISI 304L) |
| 14.3 | Valve Cup Guide | Stainless Steel (AISI 304L) |
| 14.4 | Valve Cup | Stainless Steel (AISI 304L) |
| 14.5 | Up.Valve Cup Seat Retainer | Stainless Steel (AISI 304L) |
| 14.6 | Valve Cup Seat | Rubber |
| 14.7 | Low.Valve Cup Seat Ret. | Stainless Steel (AISI 304L) |
| 15 | Coupling | Stainless Steel (AISI 431) |
| 16 | Tie Rod | Stainless Steel (AISI 304L) |
| 17 | Cable Guard | Stainless Steel (AISI 304L) |
| 18 | Tie Rod Stud | Stainless Steel (AISI 316) |
| 19 | Tie Rod Nut | Stainless Steel (AISI 304L) |
| 20 | Name Plate | Stainless Steel (AISI 304L) |